Guest Contributor – Julie Hotard

Last November, I attended a Fifth Principle Project Discussion Forum (Oct 25, 2022) about the need to save the Seven Principles. The forum was attended by many people who share the same values as notable Unitarians, Universalists, and UUs. Many UUs are simply unaware of how many diverse and bright lights UU congregations have attracted.
There was a feeling of electricity from all the brilliant, caring, and insightful people ready to make constructive things happen. Talking with them and listening, I envisioned us teaming up over time to save the Seven Principles together.
There was so much strength in the people and their interactions.
How to Keep the Energy Going
Then I panicked. "Oh, no. As soon as this Zoom session ends, the interconnections among these people are gone!" I wanted these brilliant people to keep putting their heads together for our common goals.
I decided to connect us all. I put my email address in the Zoom chat so anyone who wanted could email me and join an email list. Many did!
Some volunteered to give out my email at other Zoom sessions where I wouldn't be present or to people at their congregations who wanted to save the principles.
Thus the UU inter-congregational email list was born. Ever since I've been amazed at the members' talent.
From the beginning, I didn't want to limit our projects to only the ones I could lead as an individual. I encouraged people to start their own projects with others on the list.
One member pulled together a group of us to do a Zoom conference with a stimulating panel discussion of strategies to inform and work with our congregations to help save the principles. Some people also delve together into understanding and clarifying the latest little-known and mystifying decisions and practices by the UUA.
We give each other reports from our congregations on what we've been doing to inform them and to find 7P-friendly delegates to go to General Assembly in June this year. We discuss the obstacles we stumble upon and give each other suggestions on what else we can do to attain our goals.
It's great to put our heads together to figure out how to approach the different types—depending on how open or aware they may be. We're also documenting and figuring out how to deal with the gaslighting that is being done by illiberal leadership at some congregations.
Some of our list members have been chosen as General Assembly delegates. Others are communicating their concerns to any open-minded delegates who've been chosen. Others are trying to see if they can get congregation-wide votes on the Article II revision proposal—to inform delegates of the wishes of their congregation.
People even appear on Zoom discussions at each other's congregations to explain our concerns with the proposed revision.
Join the UU Inter-Congregational Email List
If you would like to join the UU Inter-Congregational Email List to help save the Seven Principles, just email me at julie.hotard at gmail dot com. Give me your full name and let me know that you are interested in saving the Seven Principles. Also, let me know which congregation you are in or have been associated with in the past.
Saving the Seven Principles Website
Perhaps our finest achievement is our website for publishing documents to inform congregants of issues with the Article II Revision proposal and the need to save the Seven Principles. Visit the Saving the Seven Principles website.
Below is a list of articles on the website's home page. These articles have been highlighted because they help to inform you and other UUs about the proposed Article II changes.
Visit the Website
The Saving the Seven Principles website is curated by a talented group of individuals, including Lincoln Baxter, Karen Brown, Kenneth Ing, Anne Schneider, Patricia Mohr, Barbara Kidney, Susan McWethy, and Jim Anderson. Steven Myles created the artwork.
I'm bursting with pride to be associated with these folks and what they have created.
How to Use the Website
Please visit our website and consider how you might use it to inform your congregation or UUs you know in other congregations. If you have a Facebook page or other website to which fellow UUs travel, you are free to put a link to our website or any of the articles there.
UUs can use the website to print handouts or send links to congregants—for example, before or after congregational discussions on Article II—or any time a congregant expresses a desire to be informed.
Of course, the most important use is reading and committing some of the articles' points to memory. None of us wants to be caught flat-footed in discussions. Also, many people don't read much because they're busy. Or they read a lot due to their responsibilities and are reluctant to read more. Also, some people are more likely to be persuaded by personal conversations rather than entirely by reading.
UUism has made vast contributions to our world during our history due to its unique status as a very open-minded liberal religion. Reverend Kate Rohde calls this "UU Classic." Please feel free to use the material on the website to help save classic UUism. That way, we can all keep sharing its many benefits.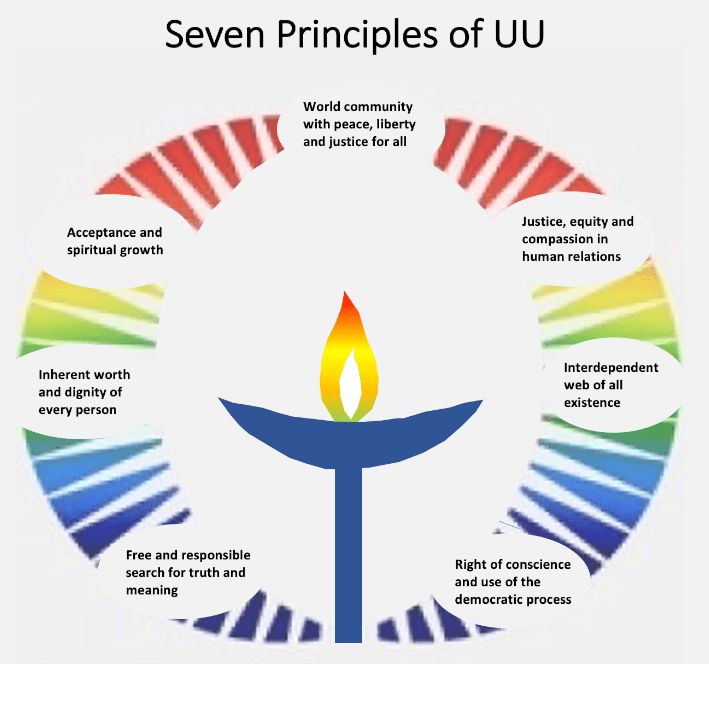 Two Important Things
Subscribe to Comments
Subscribe to comments to follow the comments from other readers.

Join the Fifth Principle Project. It's free. The Fifth Principle Project is an organic grassroots initiative to gather into community Unitarian Universalists who want to reinvigorate the right of conscience and renew the democratic process in the governing of our denomination.