Draft language from the Article II Study Commission is now available for review and comment. Article II of the Association's bylaws contains the Purpose of the Association, our Seven Principles, Six Sources, Inclusion and Freedom of Belief statements. Per a requirement of the Association's bylaws, Article II is subject to review every 15 years. Accordingly, the UUA Board of Trustees in August 2020 established the Article II Study Commission for a two year term with the power to "revise, replace, or restructure" Article II.
The October 22, 2022 agenda of the UUA Board of Trustees meeting included a review of the draft language of Article II as submitted by the Article II Study Commission. Once the UUA Board of Trustees approves the structure and language for a new Article II, a vote will be taken at the June 2023 General Assembly regarding the revised Article II. It is important that all UUs, congregations, and fellowships are aware of the proposed changes to Article II and prepare to make an informed vote at the 2023 General Assembly.
Article II Discussion Forum
To assist UUs, congregations, and fellowships to make an informed voting decision, the Fifth Principle Project is sponsoring an Article II Discussion Forum on Tuesday,  November 1 at 8:00 PM Eastern.
All are invited. However, if you wish to participate in the discussion, make a comment, or ask a question you will be required to turn on your device camera and speak directly to the forum. In order to foster a free-flowing conversation, we have opted not to use the Chat feature for questions. In short, we ask that if you have a comment or a thought to share, please engage in the conversation and not use the Chat feature.
Pre-registration is required.
Follow this Pre-registration link to attend this Article II Discussion Forum on November 1, 2022 at 8:00 to 9:30 PM Eastern (7:00 PM Central, 6:00 PM Mountain, 5:00 PM Pacific.
Article II Study Guideline
An Article II Study Guide has been developed that provides background on Article II and its history.  Topics included in the Article II Study Guide include:
Why have an Article II discussion?
What is Article II?
What's the background/history of the Article II sections?
Review 2009 Article II Recommended Revisions
Review Draft Language of Article II
The Article II Study Guide is available in PDF download format. You are free to share this Study Guide.  The Study Guide also contains the draft Article II language and voting procedures at General Assembly.
You are encouraged to share this Discussion Post URL on social media.
Summary of Changes
The draft Article II significantly revises the structure and language of the current Article II. Below is a summary of those changes.
Purpose of the Association: Replaced with new language.
Seven Principles: Eliminated. Replaced with value and covenant statements.
Six Sources: Eliminated. Replaced with a narrative description of inspirations.
Inclusion Statement: Unchanged.
Freedom of Belief: Retained most of the original language, but an appended statement outlines how beliefs must be expressed.
Draft Article II Language
Section C-2.1. Purposes.
The Unitarian Universalist Association shall devote its resources to and exercise its organizational powers for religious, educational, and humanitarian purposes. Its primary purposes are to equip congregations for vital ministry, to support and train leaders both lay and professional, to heal historic inequities, and to advance our Unitarian Universalist values in the world. We will transform the world by our liberating love.
Section C-2.2. Values and Covenant.
Love is the enduring force that holds us together.
As Unitarian Universalists in religious community, we covenant, congregation-to-congregation and through our association, to support and assist each other in engaging our ministries. We draw from our heritages of freedom and reason, hope and courage, building on the foundation of love.
Love inspires and powers the passion with which we embody our values. Inseparable from one another, these shared values are: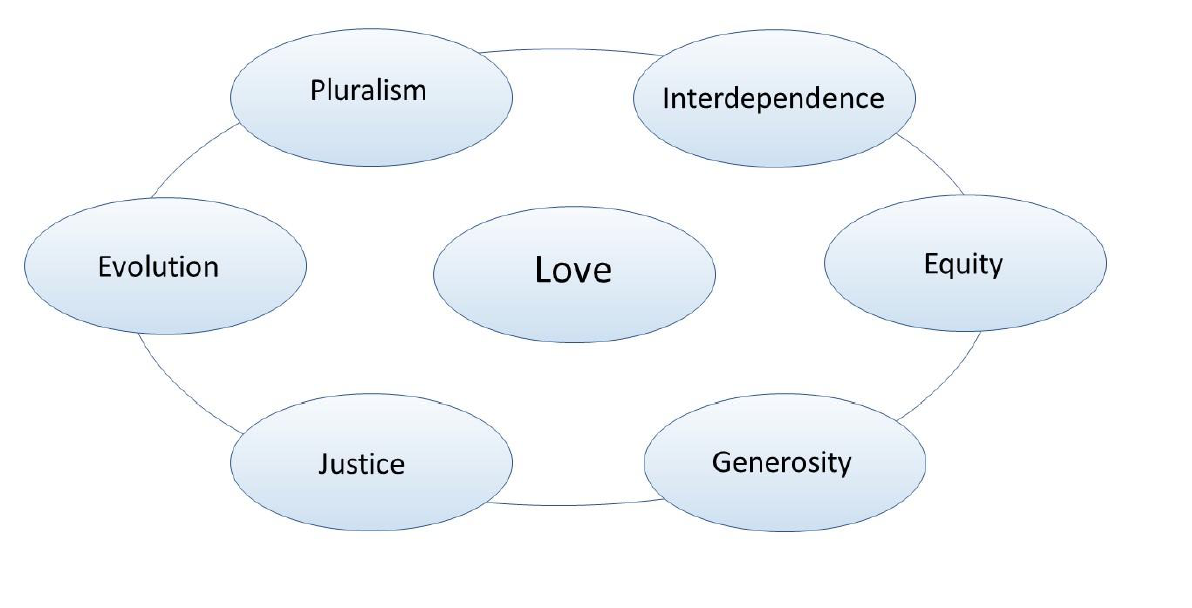 Justice. We work to be diverse multicultural Beloved Communities where all people thrive.
We covenant to dismantle racism and all forms of oppression within individuals and our institutions. We are accountable to each other for this work.
Generosity. We cultivate a spirit of gratitude and hope.
We covenant to freely share our faith, presence, and resources. Compassionate generosity connects us one to another in relationships of mutuality.
Evolution. We adapt to the changing world.
We covenant to collectively transform and grow spiritually and ethically. Evolution is fundamental to life and to our Unitarian Universalist heritages, never complete and never perfect.
Pluralism. We celebrate that we are all sacred beings diverse in culture, theology, and experience.
We covenant to learn from one another and openly explore the depth and breadth of our many wisdoms. We embrace our differences and commonalities with love, curiosity, and respect.
Equity. We declare that every person has the right to flourish with dignity and worthiness.
We covenant to use our time, wisdom, attention, and money to build and sustain a fully inclusive and accessible community of communities.
Interdependence. We honor the sacred interdependent web of all existence. With humility we understand our place in the web.
We covenant to care for and respect the earth and all beings by fostering relationships of mutuality. We work to repair the bonds we have broken.
Section C-2.3. Inspirations.
As Unitarian Universalists, we draw upon, and are inspired by, the full depth and breadth of sacred understandings, as experienced by humanity. Grateful for the religious lineages we inherit and the pluralism which enriches our faith, we are called to ever deepen and expand our wisdom.
Section C-2.4. Inclusion.
Systems of power, privilege, and oppression have traditionally created barriers for persons and groups with particular identities, ages, abilities, and histories. We pledge to replace such barriers with ever-widening circles of solidarity and mutual respect. We strive to be an association of congregations that truly welcome all persons who share our values. We commit to structuring congregational and associational life in ways that empower and enhance everyone's participation.
Section C-2.5. Freedom of belief.
Nothing herein shall be deemed to infringe upon the individual freedom of belief which is inherent in the Unitarian Universalist heritages or to conflict with any statement of purpose, covenant, or bond of union used by any congregation unless such is used as a creedal test. In expressing our beliefs, we do so in the spirit of love, in ways that further Beloved Community.
Two Important Things
Join the Fifth Principle Project. It's free. The Fifth Principle Project is an organic grassroots initiative to gather into community Unitarian Universalists who want to reinvigorate the right of conscience and renew the democratic process in the governing of our denomination.
Subscribe to Comments
Subscribe to comments to follow the comments from other readers.