Post General Assembly Townhall Forum
The Fifth Principle Project will host a post-General Assembly Townhall Forum to provide a venue for people to share their thoughts about this year's General Assembly.
We have three guest speakers, Anne Schneider, Dick Burkhart, and Rebecca Pace. They will share their perspective on General Assembly.
Date: Wednesday, July 5, 2023
Time: 8:00 PM Eastern, 7:00 PM Central, 6:00 PM Mountain, 5:00 PM Pacific
Duration: 75 – 90 minutes
Pre-registration is required.
All are welcome. However, if you wish to participate in the discussion, make a comment, or ask a question, you will be required to turn on your device camera and directly speak to the forum. To foster a free-flowing conversation, we have opted not to use the Chat feature for questions.  In short, we ask that if you have a comment or a thought to share, please engage in the conversation and not use the Chat feature.
Thanks from Rebecca Pace
I want to thank all of you who commented on my posts.  Many of you have thanked me, some even in person.  There are too many for me to respond to each of you, but I truly appreciate your encouragement.
The last day of General Assembly is usually light on business and this was true this year.
By now, you have heard the results of the vote. We will have to work to save Article II at the 2024 General Assembly.   That General Assembly will be 100% online.  It will be very challenging to connect with people.  We need someone with Facebook and social media skills to step forward.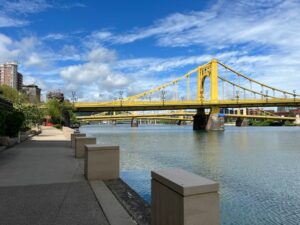 I enjoyed a slow start in the morning.  I packed up and checked out of the hotel, then went for a walk along the river.  We have been blessed with good weather this week.
The worship service was filled with music.  I made a note from the opening.  A humanist was asked why he attended church.  After a long pause, he answered, "Something happens when we gather together…"  I think this is true no matter what your concept of religion is—something happens that is good for the spirit.
After the worship service, I joined a few of our team members on the roof of the Convention Center for a brown bag lunch.  It was a lovely place to spend some time.  The view of the city and the river was beautiful.
Two Important Things
Subscribe to Comments
Subscribe to comments to follow the comments from other readers.

Join the Fifth Principle Project. It's free. The Fifth Principle Project is an organic grassroots initiative to gather into community Unitarian Universalists who want to reinvigorate the right of conscience and renew the democratic process in the governing of our denomination.