Introduction
Below is the first "diary" entry from Rebecca Pace that the Fifth Principle Project will publish regarding the Unitarian Universalist Association's (UUA) 2023 General Assembly. Given the significant decisions before General Assembly, especially a vote on the proposed language of Article II, we feel it is important that Fifth Principle Project members have access to real-time information.
We offer a big thanks to Rebecca. To contact Rebecca, use this website's Contact Us page. We will forward your email to Rebecca.
We expected another diary at the end of Wednesday, June 21.
Saturday, June 17, 2023
I hosted a preparation Zoom meeting for the "Seven Principles" team.  Fifteen people attended. The meeting conflicted with the monthly North American Unitarian Association (NAUA) worship, so some of our team members had to miss this Zoom meeting.
Some of us had previously met on Zoom, but most of us had never met at all. We discussed how we would approach the voting decision. Did we have a charge from our congregations, or were we to vote our conscience? Even if we represented our congregation, was our vote proportional or in the congregation's best interest? Of course, as the UUA Board of Trustees tells us, how can we know how to vote before General Assembly starts since we don't know the final proposed language?
After introductions, we forged ahead into a lengthy agenda.
I thought it was important to warn everyone that this would be stressful. Last year, from the podium at the first plenary session, GA delegates were advised that the people protesting outside the convention center had a right to be there. But it was also offered that "they wanted to block progress." I reminded people about the use of Oops and Ouch in Zoom chat sessions.
Technology Requirements
We briefly reviewed the technology requirements. Voting is secret from the online delegate platform. A few computer-savvy members had looked into the process after the mini-assembly vote on the Business Proposal. They reported that the voting system is hosted by a third party and seems secure and private.
Using the General Assembly Whova app is still challenging for some of the team members. I pointed out how to "flag posts" from the home screen. Last year a couple of my posts about UUMUAC were flagged and deleted.
Last Thursday, I hosted a Whova "meet-up" promoted through the "Seven Principles" community. Ten people attended; some wanted to learn more about the proposed Article II language, some were for it, and some were against it. Overall, the meet-up went well, but Whova's functionality is very limited. It cut us off abruptly after 60 minutes. I will not be able to host more "meet-ups" because I have limited time.
Whova's "social media" function is the only way to reach virtual delegates. Business-only delegates do not have access to Whova.  Next year, when we are 100% virtual, Whova will be the only place to hold discussions outside of the formal General Sessions.
At this point, some virtual delegates left us, and we turned the discussion to actions on the ground in Pittsburgh.
Distribution of Literature
The GA Program Book clearly states that no one can distribute literature inside the Convention Center. This was confirmed by an email from a UUA staff member. This is not in the Rules of Procedure—that we could challenge with an amendment.
After many unsuccessful attempts to contact the Convention Center Management or Security, I gave up and applied for an "Event Permit" from the City of Pittsburgh. The city said a group the size of our team didn't actually need a permit and copied the Convention Center Management with their email response.
The Center's Director of Security was very apologetic when he learned how much trouble I had reaching anyone at the Center. He promised to clear out a parking lot for a free speech zone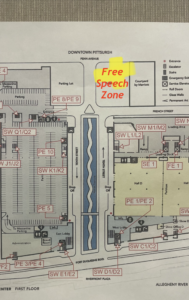 and sent me a map.
The team reviewed the map and talked about where we would be most able to connect with delegates on their way to the center. The free-speech zone is across the street from the center's main entrance, so we expect our team will have access to the sidewalks near the hotel to reach people individually as they approach the Center.
We discussed the various material we would have—flyers, stickers, buttons, and cards. I showed off the branded tee shirt, which some team members had already ordered, and our banner with the QR code. The QR code on the banner is large enough to be captured by a cellphone from across the street. It directs people to Savethe7Principles.org
Discussion Sessions
I provided everyone with the schedule for the UUMUAC Conversations during GA. Community Zoom conversations will help manage stress. We need to support each other. These Zoom sessions are open to all.
Gathering Together
Those in Pittsburgh by Wednesday afternoon can meet in the lobby of the Marriott Courtyard downtown (945 Penn Ave) to make signs and add QR code stickers to the flyers and cards. We plan to reach out to delegates each afternoon before the general sessions and perhaps at other times as well.
Someone checked the weather report for Pittsburgh. It should be pleasant for the first few days. We reminded everyone to bring water bottles, sunblock, and a wrap for the chilly assembly hall.
One final reminder. "Bring your face masks. They are required inside the building."
We are also planning an outdoor presence. If you are driving, please bring a picnic canopy, lawn or camp chairs.
I'll leave my home on Tuesday, so I'll be fresh when things start on Wednesday.
Amendments to Article II
Amendments to Article II have been gathered from the nearby 500 ideas submissions collected in April. To see the details of the prioritized amendments, visit Discuss.UUA.org and select General Assembly 2023.
Here are the amendments ordered by the sections in the bylaws. This list has been filtered by the Article II Study Commission.  I believe these are the amendments we will review in the mini-assembly, and prioritize which ones make it to the general session on Thursday.
| | | |
| --- | --- | --- |
| Amendment | Bylaws Section | Lines |
| Amendment 30 | Section C-2.1. Purposes | 6 |
| Amendment 26 | Section C-2.1. Purposes | 6 |
| Amendment 11 | Section C-2.1. Purposes | 8 |
| Amendment 61 | New: Section C-2-2 Historical Principles | New |
| Amendment 25 | Section C-2.2. Values and Covenant | 14-16 |
| Amendment 52 | Section C-2.2. Values and Covenant | 23-26 |
| Amendment 13 | Section C-2.2. Values and Covenant | 33 |
| Amendment 19 | Section C-2.2. Values and Covenant | 40-43 |
| Amendment 32 | Section C-2.2. Values and Covenant | addition |
| Amendment 70 | Section C-2.2. Values and Covenant | addition |
| Amendment 5 | Section C-2.3. Inspirations | 45,46,48,49 |
| Amendment 1 | Section C-2.3. Inspirations | addition |
| Amendment 51 | Section C-2.3. Inspirations | 45-49 |
| Amendment 68 | Section C-2.4. Inclusion | 54 |
| Amendment 6 | Section C-2.5. Freedom of belief | 59 |
Two Important Things
Subscribe to Comments
Subscribe to comments to follow the comments from other readers.

Join the Fifth Principle Project. It's free. The Fifth Principle Project is an organic grassroots initiative to gather into community Unitarian Universalists who want to reinvigorate the right of conscience and renew the democratic process in the governing of our denomination.