Two Candidates Qualified for UUA Trustee Election
Two candidates, Beverly Seese and Rebecca Mattis have qualified to be placed on the ballot at this year's Portland, Oregon General Assembly (June 22 – 26) for UUA Board of Trustee positions.  Using the UUA bylaws' provision to run by petition, there will again be actual elections for board positions at General Assembly. At the 2021 General Assembly, Fifth Principle Project co-founder, Jay Kiskel, also used this bylaws' petition provision to force the first election for a board position in nearly a decade.
Generally we do not have elections at General Assembly for leadership positions. The lack of elections at General Assembly is due to a  bylaws' provision stating that if the Nominating Committee identifies only one individual, that individual is declared "elected and no ballots shall be required." By using the petition process, candidates not selected by the Nominating Committee can be placed on the ballot, thus giving GA delegates a voice in selecting UU leaders by an election at General Assembly.
Both Beverly and Rebecca have shown their commitment to UUism by running as candidates by petition. Their petitions were only recently submitted, which leaves a great deal of work to be done in a short time. The Fifth Principle Project has offered to help these candidates..
What You Can Do
Make a Campaign Donation
It is estimated that $2,500 – $3,000 must be raised to support these candidates.  These funds will help defray the candidates' cost to attend General Assembly and purchase a Virtual Booth and other GA facilities to advertise their candidacies. The Fifth Principle Project will also cover the cost of campaign buttons, flyers and other materials.
Please visit the Make a Campaign Donation page and make a generous donation before June 8. The Fifth Principle Project will then disburse the funds to the candidates.
Submit a Newsletter Insert to Your Local Congregation's Publication Team
Please submit this prepared statement "Announcement of Elections at General Assembly" to your congregation's publication team. The newsletter insert informs congregation members and delegates that there is another election for UUA Board of Trustee positions.
Congregation delegates are encouraged to become informed voters and live into our Fifth Principle, the right of conscience and the use of the democratic process within our congregations and in society at large.
Delegate voting opens June 1.
Attend a Meet the Candidate Townhall Meeting
Three joint Meet the Candidate Townhall meetings with Beverly and Rebecca have been scheduled to allow you to learn why they placed their names on the ballot to be UUA Board of Trustee members.  These are interactive Zoom sessions designed so you can directly ask questions, share your comments, and interact with them.
Pre-registation is required.
May 18, 2022, 8:00 PM Eastern, 7:00 PM Central, 6:00 PM Mountain, 5:00 PM Pacific, Register
May 25, 2022, 8:00 PM Eastern, 7:00 PM Central, 6:00 PM Mountain, 5:00 PM Pacific, Register
June 2, 2022, 8:00 PM Eastern, 7:00 PM Central, 6:00 PM Mountain, 5:00 PM Pacific, Register
Attend UUA Sponsored Debate
June 8, 2022
8:00 PM Eastern, 7:00 PM Central, 6:00 PM Mountain, 5:00 PM Pacific
Registration details to follow
Candidate Bios and Platforms
Each candidate has a website with more information.  You are encouraged to visit these websites, make comments, and the website links with others. Below is a short summary.
Rebecca Mattis
Visit Rebecca's Candidate Website.
One of my mottos is "Democracy – use it or lose it!" This is why I am running for the UUA Board of Trustees. I believe that the UUA has not done what it should to promote democracy within the organization, and that our liberal church is losing its way, becoming increasingly authoritarian and dogmatic, while the UUA Board becomes more insular and remote from everyday UUs.
Unitarian Universalism has been my religious home for 15 years. I have always felt a sense of welcome and belonging among diverse groups, and I cannot think of a more religiously diverse denomination than UUism. Our faith has always encouraged us to do good work in love and in freedom.
But, like many UUs, I am grieved to see the direction our UU leadership has taken in the past several years. The UUA has gone from being an organization that supports its member congregations in our liberal religious work, to a highly centralized group, disengaged from individual congregations, and disturbing in its dogmatism.
As a UU and as a candidate, the three principles that I most wish to protect are the first, fourth, and fifth: the inherent worth and dignity of every person, a free and responsible search for truth and meaning, and the right of conscience and the use of the democratic process. These principles, particularly dear to me, are also the ones that I see being abandoned by the UUA.
I have many years of experience with the democratic process, both as a church trustee and as an elected official, serving four years on the city council of Rutland, Vermont. As a city council member, I learned to listen to all parties with care and empathy, including my opponents. I worked to build an environment that was no longer "us vs. them" but just "us." We engaged in constructive debate, did our best to meet the needs of all – never perfectly of course, but often successfully.
I believe that diversity of thought is any group's greatest strength. UUism was built on the foundation of free thought, and I aim to do all I can to keep us there. Thank you very much for your consideration.
Beverly Seese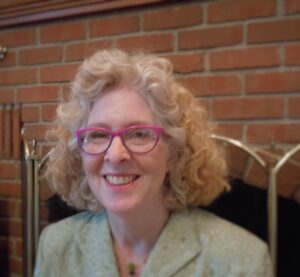 Visit Beverly's Candidate Website.
I am feeling called to this role of Board Trustees for our Association by a large spectrum of our beloved community who are concerned about the erosion of our precious faith tradition. I will be representing the heartland of our country to help deal with the feeling of a lack of representation on this board, from all the different areas of the country.
A growing number of members are concerned that our Unitarian Universalist principles and practices are being undermined. I believe Unitarian Universalism should be allowed to maintain its historic integrity and proceed along its progressive path.
The Unitarian Universalist ideals of  Reason, Tolerance, and Freedom are a magnificent bedrock for beloved Unitarian Universalist community.
With them, we have been able to achieve advances in many areas of justice-building and living in community over the past decades, and must always continue that process. This is not to say that we have reached the goals articulated in our Seven Principles. We will always be trying to improve situations for all living beings.
In recent years, I see these tenets being ignored and trampled on by leaders at all levels of our religious structure. Our principles are not being adhered to, in many cases, when concerns with our leadership are expressed. Dissent and alternate views are not allowed, such as the case of no longer allowing Letters to the Editor in the UU World Magazine.
I have served as a UU congregational minister for the past eleven years, along with an active community ministry. I received my Master's Degree from Meadville Lombard where my areas of specialization were Pastoral Counseling and Worship Arts.
I grew up in Modesto, CA, as a Church of the Brethren pacifist, and have taken training for non-violent resistance. I participated in marches for anti-nuclear weapons proliferation, Climate Concerns in D.C. in 2013, the National Women's March in 2017; and a Poor People's Campaign march in 2021.
Two Important Things
Join the Fifth Principle Project. It's free. The Fifth Principle Project is an organic grassroots initiative to gather into community Unitarian Universalists who want to reinvigorate the right of conscience and renew the democratic process in the governing of our denomination.
Subscribe to Comments
Subscribe to comments to follow the comments from other readers.