Official Candidate Bio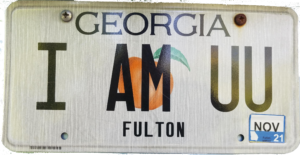 Jay Kiskel has dedicated his time and talent to Unitarian Universalism for many years, including serving on the board of his home congregation, the Mid-South District, The Mountain (UU affiliated retreat center in NC) and as president of the Universalist Convocation.  He is a member of the UU History & Heritage Society with a specialty in Southern UU history. He also provides technical web support for the UUHHS and Dictionary of UU Biography websites.  Jay is keenly interested in reinvigorating democracy in the governance of the Association.  He advanced his candidacy by petition for a UUA board position so that GA delegates will have an opportunity to cast a ballot in the selection of our national leadership team.
Why I am Running

Every voice deserves a vote!  That is the motto of the Fifth Principle Project that I co-founded in January 2020.  The Fifth Principle Project is an advocacy group for the right of conscience and the use of the democratic process within our congregations and in society at large.  This advocacy group has over 200 members.  You are invited to join.
I am a candidate for an at-large UUA Board of Trustees seat because many UUs like you supported my candidacy petition.  That support will allow General Assembly delegates to cast a ballot for a future UU leader, an opportunity that has not been available for several years, because no competing candidate had entered the race.   Per the Association's bylaws, if only one candidate has been identified by the Nominating Committee, no ballots will be cast at General Assembly.
Like most UUs, my focus was on my congregation and I was only vaguely aware of what was going on at the national level.
In 2017, I ventured from the comfort of my congregation when I attended General Assembly. My objective was to solicit sponsorship for my efforts to archive southern Unitarian and Universalist history. However, the failed hiring of a new Southern Regional Director resulted in a social media outburst and an unexpected consuming controversy.  I was also bewildered at GA by the frequent mention of how UUism needed to be liberated from its white supremacy culture.

I was confused. To seek an understanding, I used my historic research skills to investigate this break down in UUism.
As I read document after document of the origins of this controversy, I grew increasingly distressed when I realized that an erosion of democracy in the Association's governance significantly contributed to the controversy that is now polarizing UUism.   While there is undoubtedly some residual racism within UU congregations, the term "white supremacy" is inappropriate.  Our commitment to confronting racism is baked into our Seven Principles.
We arrived here because the UUA Board of Trustees has progressively become less connected and less representative of everyday UUs.  We are now governed by unelected trustees with no accountability to the congregations they are supposed to serve.
Lack of Accountability
This lack of accountability was illustrated in the board's response to the 2017 hiring controversy.  Rather than reaching out to congregations with a unifying message, the board tragically declared that the liberal values of UUism were so significantly flawed as to be oppressive and thus the root cause of the controversy.  I strenuously disagree with this assertion, and no UU is required to agree with this assertion.
Lacking a democratic renewal, a culture of isolation in our leadership has evolved that made possible such a sweeping declaration.
Rather than complain from the sidelines, I decided to run for the Board of Trustees.  My petition to be a candidate is a small step in renewing representative democracy in the Association's governance.
I ask for your congregation's delegate votes.  The use of the democratic process is the 5th of our Seven Principles.  Let us live the spirit of our principles.
The Choice You Have
My opponent is Rev. Sam Trumbore.  Sam is a terrific person. We endorse UUism's aspirational goals of diversity and inclusion.  I believe that changing the character of UUism is not the best approach to achieve those goals.
I have an unshakeable faith in the power of our Principles, our liberal values, and the guidance offered by our heritage Unitarian and Universalist denominations.  I believe such a new voice is needed on our national leadership team.
My concern about the ongoing drift away from our UU liberal values so alarmed me that I teamed with my fellow co-founder of the Fifth Principle Project, Frank Casper, to write a book, Used to be UU, The Systematic Attack on UU Liberalism, What You Need to Know, What You Need to Do.
During the six months of researching and writing the book, it became more apparent to me that there is an effort underway to change the character of UUism, a change driven by a loss of faith in our liberal values.
I believe we need a voice not selected by the existing nominating process, but by UUs just like you.  My nomination begins the process for UUs to again have a voice on our national leadership team.
The future of our UU movement can ill-afford to continue the ways of faux democracy and unaccountable representation that have characterized Associational governance, including the content and process of General Assembly.
 2009 Fifth Principle Task Force Report
I ask for your congregation's delegate votes at this year's General Assembly and join the effort to renew the power of the democratic process.
Platform
Diversity without division. Yes, we can achieve our objectives of greater diversity and inclusion without sowing division and rancor.
Address the deficiencies in General Assembly to conduct the business of the Association by implementing the recommendations outlined in the 2009 Fifth Principle Task Force Report.
Expand the pool of candidates for the UUA Board of Trustees by instituting a nation-wide solicitation for candidates for leadership positions.
Sponsor bylaws changes that reconfigure the current at-large designation of UUA Board members to have accountability to UUs in our congregations.
Re-think the current inward-looking focus of our national leadership and return the moral authority of the denomination to the public square.
Sponsor a peer review of Widening the Circle of Concern to ensure this proposed roadmap for UUism have been vetted and reviewed.
Candidate Forum 
Pre-General Assembly
On June 1, at 8:00 pm Eastern there will be a Candidate Forum is sponsored by the Election Campaign Practices Committee (ECPC). It will involve statements by, questions to, and discussion between the two candidates for the contested seat #8 on the UUA Board of Trustees: Rev. Sam Trumbore and Jay Kiskel.
Attendees are invited to submit questions for the candidates in advance by email to elections@uua.org, or during the forum by typing them into the Q&A panel.
You must pre-register to attend.  Register at this link.
At General Assembly
There will be a candidate forum open to all General Assembly attendees and delegates on Thursday, June 24, 2021 from 4:00 – 5:30 pm (CDT).  Please plan to attend to hear both candidates.
Leave a Comment or Meet the Candidate
Leave a comment of request Zoom session to Meet the Candidate.
More About Jay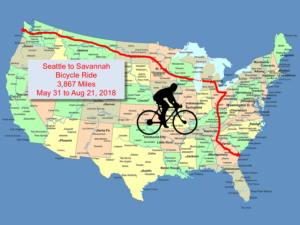 I am an avid long distance bicycle rider. I have participated in numerous organized state bike rides and in 2018, I rode my bike from Seattle to Savannah (3,867 miles).  This year in August, I will start another long-distance ride from Canada to Key West, Florida.
I retired from a 35-year IT career that spanned all levels of computing, from programming with punch cards to managing multi-million-dollar global programs.  My IT work has provided me an opportunity to work in truly culturally diverse environments. I have lived in Bangalore, Stockholm and Oslo and had other work assignments in Mexico, Moscow, Shanghai, Hong Kong, London, Amsterdam and cities across North America. My work was recognized by several awards including being the sole winner of my company's Chairman Award.
I have a degree from Rutgers University in Applied Mathematics along with additional studies at the Universiti Sains Malaysia. I am a combat veteran of the U.S. Marine Corps.
I am married to Helen Borland and we have three wonderful adult children.
Campaign Covenant
We will work together to create a fair, honest, and truth centered campaign and conversations that foster the growth and development of our faith and our Association.  We affirm the need for issues-based debate and creative, healthy competition during this campaign. We will maintain a tone which is respectful of each other and the interests and concerns of our supporters.
Join The Fifth Principle Project
Join the Fifth Principle Project (it's free) so you can stay connected with others who want to reinvigorate the right of conscience and renew the democratic process in the governing of our denomination.